Alaska 2008 Ride Report
Intro * Day 1 * Day 2 * Day 3 * Day 4 * Day 5 * Day 6 * Day 7 * Day 8 * Day 9 * Day 10 * Day 11 * Day 12 * Day 13 * Day 14 *
Day 15 * Day 16 * Day 17 * Day 18 * Day 19 * Day 20 * Day 21 * Day 22 * Day 23 * Day 24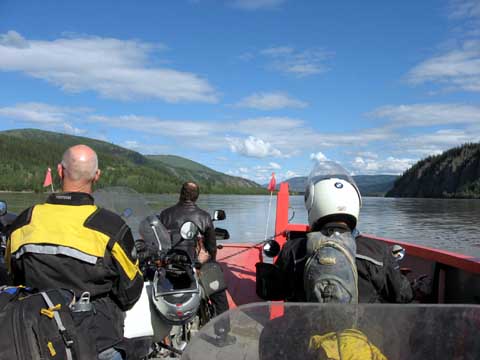 Day 10: North to Alaska

June 21, 2008 - Dawson to Fairbanks

Since I'd been up to 1:30AM the night before it was 11:00AM before I hit the road. Took the ferry across the Yukon River to the start of the Top of the World Hwy. Very aptly named, it runs along a high ridge with incredible views, especially to the north. It's mostly dirt/gravel, but in very good shape. Running along at 50-60 MPH was no problem.

Crossed into the US and then down into Chicken (Chicken Facts), had lunch at the cafe there. The salmon burger was very good, but I should have really had the pie. :) Didn't see it until after they'd started cooking the burger. Oh well, just means I have to go back, right??

From there it was just a couple miles more of dirt and then pavement the rest of the way to the Al-Can, and then to Fairbanks. Just another day of beautiful weather and amazing scenery. :) Fairbanks is kind of an odd town, not many hotels and with it being the solstice the town was pretty full. Finally got a room though.





On the ferry

Top of the World

Top of the World

Border Crossing

Border Crossing

Random Mountains

Chicken

Mmmm Good

The Al-Can

The Al-Can
Intro * Day 1 * Day 2 * Day 3 * Day 4 * Day 5 * Day 6 * Day 7 * Day 8 * Day 9 * Day 10 * Day 11 * Day 12 * Day 13 * Day 14 *
Day 15 * Day 16 * Day 17 * Day 18 * Day 19 * Day 20 * Day 21 * Day 22 * Day 23 * Day 24