Alaska 2008 Ride Report
Intro * Day 1 * Day 2 * Day 3 * Day 4 * Day 5 * Day 6 * Day 7 * Day 8 * Day 9 * Day 10 * Day 11 * Day 12 * Day 13 * Day 14 *
Day 15 * Day 16 * Day 17 * Day 18 * Day 19 * Day 20 * Day 21 * Day 22 * Day 23 * Day 24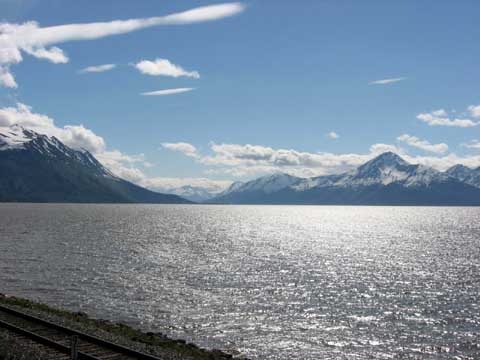 Day 13: North to Alaska

June 24, 2008 - Anchorage to Homer

Beautiful ride down the Kenai peninsula to Homer. Stunning views. Got a little lucky with the weather, the forecast had called for overcast with some rain but the clouds weren't too low and actually got some sun.

Went through the tunnel into Whittier, cool little town. The tunnel is a single lane, traffic alternates every half hour, so if you miss it you have to wait an hour before you can go again. I learned this the hard way on the way out. :) It's actually a railroad tunnel, but they paved on the outside of the rails and in between, leaving the rail and the groove for the railroad wheel flange exposed. That groove is a bit of a problem on a bike, it's wide enough that it can catch your tire. Got a long safety speech from the guy at the toll booth. Apparently it's happened enough that now they make bikes go last, so that cars don't get stuck behind a crashed bike. Ok, so off you go, just keep the bike on the center paved section. No biggie. :) While waiting for the cars to go I was talking to Bud and Darleen, a BMW-mounted couple from San Diego. Ended up having lunch with them in Whittier. I liked Whittier, it was nice to see that it was still a real working town, not just a tourist trap. That was true of all the towns on the peninsula.

Anyway, as mentioned, we missed the 2PM exit and had to wait until 3PM. Not a big issue, but it did put me a little later getting into Homer. The views from there are incredible, looking out across the bay to the mountains on the other side.

Ate at Captain Pattie's, a place Bud and Darleen recommended. Given that Homer bills itself as the "Halibut Capital of the World", grilled halibut is what I had. 'Tho I was tempted by the waitress telling me the scallops were really good. :) The halibut was great though, and the scallops could wait. Eating and looking out the window and what cruises by about 30' away but a bald eagle. Up close like that, with his wings out and still he looked majestic. And big!! It was pretty windy and cold on the beach so I decided not to camp and grabbed a room.

A little bittersweet, Homer is the furthest point from home (by road anyway) so everything from this point on is heading back.





Hwy 1

Hwy 1

Boats at Whittier

Bud and Darleen

Homer

Homer

Homer

Homer

Grilled Halibut
Intro * Day 1 * Day 2 * Day 3 * Day 4 * Day 5 * Day 6 * Day 7 * Day 8 * Day 9 * Day 10 * Day 11 * Day 12 * Day 13 * Day 14 *
Day 15 * Day 16 * Day 17 * Day 18 * Day 19 * Day 20 * Day 21 * Day 22 * Day 23 * Day 24