Alaska 2008 Ride Report
Intro * Day 1 * Day 2 * Day 3 * Day 4 * Day 5 * Day 6 * Day 7 * Day 8 * Day 9 * Day 10 * Day 11 * Day 12 * Day 13 * Day 14 *
Day 15 * Day 16 * Day 17 * Day 18 * Day 19 * Day 20 * Day 21 * Day 22 * Day 23 * Day 24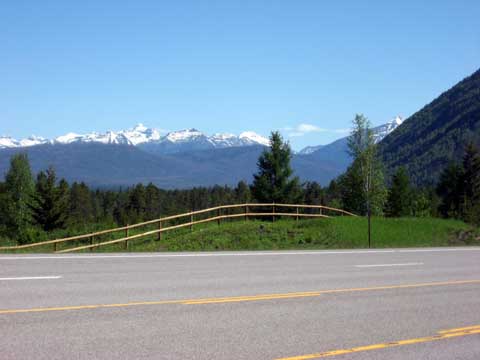 Day 5: North to Alaska

June 16, 2008 - Kalispell, MT to Wasa Lake Provincial Park, Alberta

A frustrating morning dealing with the hotel's wifi had me leaving very late yet again. Not sure filing daily reports from on the road is such a hot idea. :) The rest of the day sure made up for any petty annoyances though. Like yesterday, there were route issues to figure out. I'd wanted to do "Going to the Sun" road through Glacier NP, but due to a heavy winter, snow-wise, it wasn't open yet. So I could just blast north on 93 out of Kalispell up toward Banff, figuring I'd try again on the way back. Or take 2 east and loop around the south and east sides of the park and then head up to Waterton park in Canada. Since the weather was absolutely perfect now, and it might not be then, I went for option 2. Another good call.

I've logged a few hundred thousand miles on bikes, from one end of the country to the other, plus parts of Canada and Mexico. Never have I had a day like this, where you went from one jaw-dropping vista to another, seemingly around every turn. Just on and on and on. Maybe White Rim Trail in Moab was close.

From hwy 2 on the south side of Glacier, north on 49 to 89 and then to 17 into Canada and Waterton NP was the best of it, but even after that, up 6 to 3, then west for a ways and then north on 93/95 to Wasa Lake Provincial Park, where I'm at now. Yes, I'm finally camping. :) Looks to be a perfect night for it, temp's about 70-75 right now, blue sky and the setting sun filtering through the pines. Life is very, very good.

I've got to get back to the Glacier/Waterton area when I've got more time to dally and explore. Ashley would love it too, be great to spend at least a week up there, definitely want to take her to the Prince of Wales Lodge in Waterton.. What's really amazing is that as incredible as it all was I didn't even get to see what everyone says is the best part.

Sitting here in the campground typing this up, it's after 9:00 and it looks like the sun will be up for another hour or so. May make it hard to get to sleep. :)

Really looking forward to tomorrow, going to head to Banff, Lake Louise, the Icefields parkway and to (and probably past) Jasper. Maybe even all the way to Dawson Creek and the start of the Al-Can.



Hwy 2

Hwy 49

Hwy 49

Into Canada

Waterton

Sheep in the Road

Scared Him

Home for the Night
Intro * Day 1 * Day 2 * Day 3 * Day 4 * Day 5 * Day 6 * Day 7 * Day 8 * Day 9 * Day 10 * Day 11 * Day 12 * Day 13 * Day 14 *
Day 15 * Day 16 * Day 17 * Day 18 * Day 19 * Day 20 * Day 21 * Day 22 * Day 23 * Day 24