Alaska 2008 Ride Report
Intro * Day 1 * Day 2 * Day 3 * Day 4 * Day 5 * Day 6 * Day 7 * Day 8 * Day 9 * Day 10 * Day 11 * Day 12 * Day 13 * Day 14 *
Day 15 * Day 16 * Day 17 * Day 18 * Day 19 * Day 20 * Day 21 * Day 22 * Day 23 * Day 24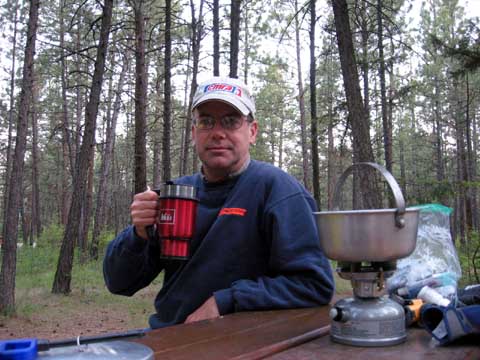 Day 6: North to Alaska

June 17, 2008 - Wasa Lake Provincial Park, Alberta to Jasper, Alberta

Ok, ok, I give....I'm out of words, superlatives, exclamations, expressions of joy and wonder, whatever...I'm done. I didn't think today could be as good as yesterday, but I was obviously wrong.

Got going fairly early, (surprise!!!) on the road by 7:20. Not crack of dawn, but it was the first time I'd broken camp with all the new gear, so I knew it would take a little longer. Coffee in the French press mug was goooooood. :) Blue sky, temps in the high 40s probably, gorgeous.

It was nice to see 93/95 in good weather, in '99 I'd been lucky to see 100'. Beautiful road. Taking the 93 cutoff to Banff it immediately got better. Saw sheep and bear within a few miles, and the scenery was fabulous.

Banff is basically just a big tourist trap, ala Aspen or Jackson, but the setting is beautiful. Turned back north on 1a and shortly saw more bear, a momma and cub. Didn't get any pics of them, unfortunately. Stopped at Lake Louise, very pretty site but weather was moving in so I didn't stay long, just snapped a couple of shots and got going. They didn't turn out so well. After that it was the Icefields Parkway to Jasper.

Words really do fail me for that stretch of road. All I can say is, if you ever have the opportunity, do it. You won't regret it. The pictures don't begin to do it justice.

At the Crow's Foot Glacier Overlook a guy on a Buell Ulysses pulled up, we chatted a bit. Name of Rodger, from Iowa and headed to Alaska too, So we rode together for a bit and then ran into another guy, Bob from Denver on a 1000 V-Strom, headed that way too. That's them in the snow pic.

Luckily the snow cleared up and we even had some sun on the way into Jasper. I decided to get a room there and get caught up on stuff, they headed on.

Jasper's a tourist town too, but somehow didn't feel quite as synthetic as Banff did. Found a brewpub for dinner, salmon was ok and the IPA wasn't bad, maybe a little thin compared to a Pyramid Thunderhead . Had a couple to make sure the review was accurate. :)

Not many miles, about 335. All the gawking and picture taking really chews up time. Need to put my head down and get moving, really need to be in Fairbanks by Saturday.



Hwy 95

Bear on Hwy 93

Hwy 93

Coming into Banff

Hwy 93

Crowsfoot Glacier

Hwy 93

Snowing

Hwy 93
Intro * Day 1 * Day 2 * Day 3 * Day 4 * Day 5 * Day 6 * Day 7 * Day 8 * Day 9 * Day 10 * Day 11 * Day 12 * Day 13 * Day 14 *
Day 15 * Day 16 * Day 17 * Day 18 * Day 19 * Day 20 * Day 21 * Day 22 * Day 23 * Day 24