Alaska 2008 Ride Report
Intro * Day 1 * Day 2 * Day 3 * Day 4 * Day 5 * Day 6 * Day 7 * Day 8 * Day 9 * Day 10 * Day 11 * Day 12 * Day 13 * Day 14 *
Day 15 * Day 16 * Day 17 * Day 18 * Day 19 * Day 20 * Day 21 * Day 22 * Day 23 * Day 24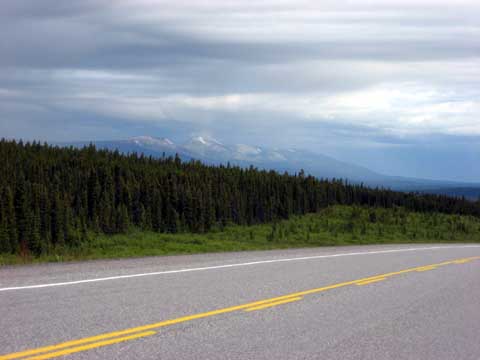 Day 8: "Critter Day"

June 19, 2008 - Buckinghorse river park to Watson Lake, Yukon Territory.

On the road before 8AM, which was actually before 7AM since I'd crossed into Pacific Time late yesterday. Really cold packing up everything in the morning, probably close to 40 Degrees. Kind of cold and occasionally rainy headed up to Ft. Nelson. On the plus side, saw both bear and moose. Yesterday, eating dinner in Ft St. John, a couple of locals were telling me that the scenery past Ft. Nelson was really nice. They called that. Very, very nice ride. Warmed up some, sun was out, very pleasant. Saw all sorts of animals. More bear, more moose, big horn sheep, buffalo, even a beaver dam and lodges.

Decided to stay in a hotel in Watson Lake, a little short of where I'd wanted to get to but needed some internet access and to do laundry. When I was doing laundry, I met a really interesting lady named Brenda, she and her husband live outside of Dawson in a cabin, no electricity. I can't imagine!! Anyway, we chatted for a while about what her life was like up there, and how she came to be there(she was originally from Toronto). Her husband plays music up in Dawson, so hopefully I'll run into him tomorrow or Saturday.

Stuff like this is one of the advantages of traveling alone. If you're in a group you tend to talk to the people you're with and not as much to strangers.

Going to try to make Dawson tomorrow, we'll see what happens.



Endless Forest

Moose

Summit Lake

Bighorn Sheep

Bighorn Sheep

Random Mountains

Mucho Lake

Mucho Lake

Mucho Lake

More Moose

Buffalo
Intro * Day 1 * Day 2 * Day 3 * Day 4 * Day 5 * Day 6 * Day 7 * Day 8 * Day 9 * Day 10 * Day 11 * Day 12 * Day 13 * Day 14 *
Day 15 * Day 16 * Day 17 * Day 18 * Day 19 * Day 20 * Day 21 * Day 22 * Day 23 * Day 24