Alaska 2008 Ride Report
Intro * Day 1 * Day 2 * Day 3 * Day 4 * Day 5 * Day 6 * Day 7 * Day 8 * Day 9 * Day 10 * Day 11 * Day 12 * Day 13 * Day 14 *
* Day 15 * Day 16 * Day 17 * Day 18 * Day 19 * Day 20 * Day 21 * Day 22 * Day 23 * Day 24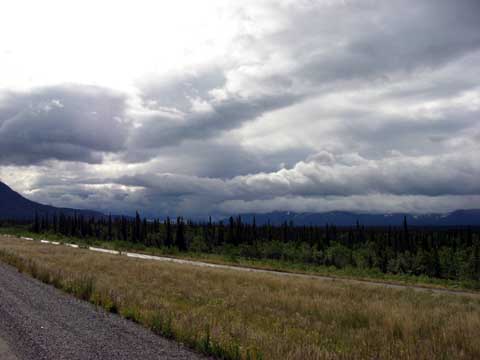 Day 17: North to Alaska

June 28, 2008 - Destruction Bay to Watson Lake

Walked out of the hotel room this morning, cold and windy, but sunny. Look down the road the way I'm headed, socked in with rain clouds. Uh oh. Put everything on. In case you're wondering what "everything" is, 4 layers of pants; jeans, the overpants with the liner in, and then rain pants over that. Up top; t-shirt, flannel shirt, electric vest, sweatshirt, jacket with liner in. A little warm at first but after 30 minutes in the rain I was glad I had every bit of it on. :) Overall it was kind of similar to yesterday, some construction, lots of rain and wind. Colder. Did get an earlier start though, which helped.

Big highlight was grizzlies. Two of them right next to the road, maybe 25-30 feet off. There were 7-8 cars/RVs already stopped so I pulled up behind them and got a couple of decent pics. They were going to town eating grass, paying all the humans no mind. Saw a badger too, although I couldn't get a shot of it. At least I think it was a badger, reminded me of Mike Ditka though so I'm pretty sure. :)

Got into Watson Lake and stayed at the Big Horn, same place as last week. Eating dinner at the restaurant lounge, start talking to a couple of older local guys at the next table, ended up hanging out with them for a while. Interesting guys. Well, one was, the other was a walking billboard for the effects of long-term pot smoking. Elevator didn't quite make it to the top floor. :) Talked about bikes, long haul trucking, traveling in Mexico, life in the Yukon, bears, whatnot. Good time.




| | | |
| --- | --- | --- |
| The Al-Can | | Grizzly Bears |
Intro * Day 1 * Day 2 * Day 3 * Day 4 * Day 5 * Day 6 * Day 7 * Day 8 * Day 9 * Day 10 * Day 11 * Day 12 * Day 13 * Day 14 *
* Day 15 * Day 16 * Day 17 * Day 18 * Day 19 * Day 20 * Day 21 * Day 22 * Day 23 * Day 24